May 20th at The Track
Join us for the last show of the season before summer break!
Live Weekly Racing Brought to you by Dirt Race Central! If you are unable to make the races every week, we have a LIVE streaming partner!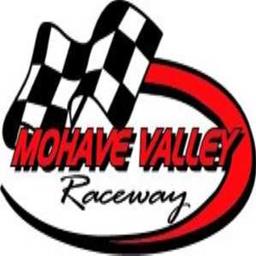 10/8/2022 - Mohave Valley Raceway
Bullhead City, AZ
Pits:
Pit Pass: $45
Pit Pass 12 and under - $30
CASH ONLY! No checks will be accepted.
Personal vehicles or side by sides, etc are NOT allowed in the pits. If it is not towing the race car/truck, on the trailer with the car, or in the trailer with the car, then it will NOT be allowed. NO exceptions!
Main Grandstands:
General Admission - $20.00
Seniors (60 & Over) - $18.00
Military - $18 (need to show ID)
Children 6-12 - $10.00
Children 5 & Under - FREE!!!!
Cash Only for tickets. No ATMs on site. Concessions, souvenirs, & the Beer garden is cash or card
We do not sell nor offer tickets prior to race day. They have to be purchased in person
** Ice Chests, Outside Food and Beverages are NOT permitted.**
Dwarf

11 entries

Lightning Sprints
410 Sprints - Non-Winged
Full Event Information on MyRacePass
Dwarf
Finish
Start
#
Competitor
Hometown
+/-
1
1
91
Kody Cowan
-
2
3
24X
Mark Pollock Mesa, AZ
Mesa, AZ
1
3
7
84X
Cody Bingman Las Vegas, NV
Las Vegas, NV
4
4
6
6X
Pat Petrie Henderson, NV
Henderson, NV
2
5
9
82X
Ryan Carroll Bullhead City, AZ
Bullhead City, AZ
4
6
8
71X
Anthony Sturdivant Mohave Valley, AZ
Mohave Valley, AZ
2
7
4
32X
Justin Fennern Mohave Valley, AZ
Mohave Valley, AZ
-3
8
11
3X
Kat Morris Henderson, NV
Henderson, NV
3
9
2
00X
David Teves Golden Valley, AZ
Golden Valley, AZ
-7
10
5
55X
Kurtis Craig Golden Valley, AZ
Golden Valley, AZ
-5
11
10
91X
Matthew Carroll Fort Mohave, AZ
Fort Mohave, AZ
-1
Finish
Start
#
Competitor
Hometown
+/-
1
3
91
Kody Cowan
2
2
5
24X
Mark Pollock Mesa, AZ
Mesa, AZ
3
3
2
55X
Kurtis Craig Golden Valley, AZ
Golden Valley, AZ
-1
4
1
84X
Cody Bingman Las Vegas, NV
Las Vegas, NV
-3
5
6
82X
Ryan Carroll Bullhead City, AZ
Bullhead City, AZ
1
6
4
3X
Kat Morris Henderson, NV
Henderson, NV
-2
All transfer
Finish
Start
#
Competitor
Hometown
+/-
1
5
00X
David Teves Golden Valley, AZ
Golden Valley, AZ
4
2
4
32X
Justin Fennern Mohave Valley, AZ
Mohave Valley, AZ
2
3
1
6X
Pat Petrie Henderson, NV
Henderson, NV
-2
4
3
71X
Anthony Sturdivant Mohave Valley, AZ
Mohave Valley, AZ
-1
5
2
91X
Matthew Carroll Fort Mohave, AZ
Fort Mohave, AZ
-3
All transfer