2023 Season Opener
February 4th, 2023 Season Opener!

Bill & Shirley Meyer Showdown 2023
Join us for the 3rd Annual Bill and Shirley Meyer Showdown! February 17th and 18th, 2023.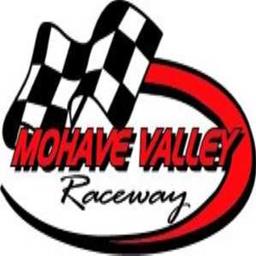 10/8/2022 - Mohave Valley Raceway
Bullhead City, AZ
Pits:
Pit Pass: $45
Pit Pass 12 and under - $30
CASH ONLY! No checks will be accepted.
Personal vehicles or side by sides, etc are NOT allowed in the pits. If it is not towing the race car/truck, on the trailer with the car, or in the trailer with the car, then it will NOT be allowed. NO exceptions!
Main Grandstands:
General Admission - $20.00
Seniors (60 & Over) - $18.00
Military - $18 (need to show ID)
Children 6-12 - $10.00
Children 5 & Under - FREE!!!!
Cash Only for tickets. No ATMs on site. Concessions, souvenirs, & the Beer garden is cash or card
We do not sell nor offer tickets prior to race day. They have to be purchased in person
** Ice Chests, Outside Food and Beverages are NOT permitted.**
Dwarf

11 entries

Lightning Sprints
410 Sprints - Non-Winged
Full Event Information on MyRacePass
Dwarf
Finish
Start
#
Competitor
Hometown
+/-
1
1
91
Kody Cowan
-
2
3
24X
Mark Pollock Mesa, AZ
Mesa, AZ
1
3
7
84X
Cody Bingman Las Vegas, NV
Las Vegas, NV
4
4
6
6X
Pat Petrie Henderson, NV
Henderson, NV
2
5
9
82X
Ryan Carroll Bullhead City, AZ
Bullhead City, AZ
4
6
8
71X
Anthony Sturdivant Mohave Valley, AZ
Mohave Valley, AZ
2
7
4
32X
Justin Fennern Mohave Valley, AZ
Mohave Valley, AZ
-3
8
11
3X
Kat Morris Henderson, NV
Henderson, NV
3
9
2
00X
David Teves Golden Valley, AZ
Golden Valley, AZ
-7
10
5
55X
Kurtis Craig Golden Valley, AZ
Golden Valley, AZ
-5
11
10
91X
Matthew Carroll Fort Mohave, AZ
Fort Mohave, AZ
-1
Finish
Start
#
Competitor
Hometown
+/-
1
3
91
Kody Cowan
2
2
5
24X
Mark Pollock Mesa, AZ
Mesa, AZ
3
3
2
55X
Kurtis Craig Golden Valley, AZ
Golden Valley, AZ
-1
4
1
84X
Cody Bingman Las Vegas, NV
Las Vegas, NV
-3
5
6
82X
Ryan Carroll Bullhead City, AZ
Bullhead City, AZ
1
6
4
3X
Kat Morris Henderson, NV
Henderson, NV
-2
All transfer
Finish
Start
#
Competitor
Hometown
+/-
1
5
00X
David Teves Golden Valley, AZ
Golden Valley, AZ
4
2
4
32X
Justin Fennern Mohave Valley, AZ
Mohave Valley, AZ
2
3
1
6X
Pat Petrie Henderson, NV
Henderson, NV
-2
4
3
71X
Anthony Sturdivant Mohave Valley, AZ
Mohave Valley, AZ
-1
5
2
91X
Matthew Carroll Fort Mohave, AZ
Fort Mohave, AZ
-3
All transfer