Saturday Nights Are for Racing!
Join Us Saturday Night September 30th for 7pm weekly racing!
Live Weekly Racing Brought to you by Dirt Race Central! If you are unable to make the races every week, we have a LIVE streaming partner!

Sprint Cars Are BACK!
Join us October 14th for the Sprint Cars at Mohave Valley Raceway!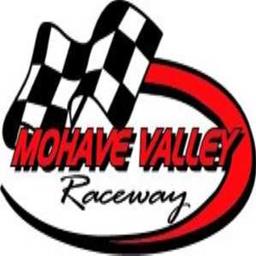 9/2/2023 - Mohave Valley Raceway
Bullhead City, AZ
Labor Day Clash - night #1
Pits:
Pit Pass (13 and over) - $40
Pit Pass 12 and under - $25
We use MyLaps Transponders.
A working raceceiver is required. The frequency is 454.0.
Main Grandstands:
General Admission - $15.00
Seniors (60 & Over) - $12.00
Military - $12 (need to show ID)
Children 6-12 - $8.00
Children 5 & Under - FREE!!!!
Cash Only for tickets and pits. No ATMs on site. Concessions, souvenirs, & the Beer garden is cash or card
We do not sell nor offer tickets prior to race day. They have to be purchased in person
** Ice Chests, Outside Food and Beverages are NOT permitted.**
IMCA Modified

18 entries

IMCA Northern SportMod
Dwarf

30 entries

Vintage Midgets

5 entries

Mini Dwarfs - Masters

4 entries

Mini Dwarfs - Sportman

12 entries

IMCA Stock Car

9 entries
Full Event Information on MyRacePass
IMCA Modified
Finish
Start
#
Competitor
Hometown
+/-
1
3
75JR
Chaz Baca Mesa, AZ
Mesa, AZ
2
2
5
61H
Dalton Houghton Rosamond, CA
Rosamond, CA
3
3
9
161
Donald Houghton Rosamond, CA
Rosamond, CA
6
4
7
18M
Noah Geer Mohave Valley, AZ
Mohave Valley, AZ
3
5
2
48W
Cameron Williams Mohave Valley, AZ
Mohave Valley, AZ
-3
6
6
16
Morgan Meyer San Diego, CA
San Diego, CA
-
7
8
59
Dann Perry III Laughlin, NV
Laughlin, NV
1
8
10
101
Randy Ahrns Kingman, AZ
Kingman, AZ
2
9
4
390
Rick Durica Las Vegas, NV
Las Vegas, NV
-5
10
11
3
Carson Russell Bullhead City, AZ
Bullhead City, AZ
1
11
18
22
Kane Williams Las Vegas, NV
Las Vegas, NV
7
12
17
9
Mark Hammill Las Vegas, NV
Las Vegas, NV
5
13
15
91T
Joey Mogar Boulder City, NV
Boulder City, NV
2
14
1
911
Vinny Raucci Jr Las Vegas, NV
Las Vegas, NV
-13
15
16
27K
Zander Keeland Bakersfield, CA
Bakersfield, CA
1
16
13
34
Bill Maxwell Mohave Valley, AZ
Mohave Valley, AZ
-3
17
14
421
Tyler Vache Apache Junction, AZ
Apache Junction, AZ
-3
18
12
7
Billy Griffin Buena Park, CA
Buena Park, CA
-6
Finish
Start
#
Competitor
Hometown
+/-
1
2
75JR
Chaz Baca Mesa, AZ
Mesa, AZ
1
2
5
390
Rick Durica Las Vegas, NV
Las Vegas, NV
3
3
1
101
Randy Ahrns Kingman, AZ
Kingman, AZ
-2
4
4
3
Carson Russell Bullhead City, AZ
Bullhead City, AZ
-
5
3
34
Bill Maxwell Mohave Valley, AZ
Mohave Valley, AZ
-2
6
6
27K
Zander Keeland Bakersfield, CA
Bakersfield, CA
-
All transfer
Finish
Start
#
Competitor
Hometown
+/-
1
2
61H
Dalton Houghton Rosamond, CA
Rosamond, CA
1
2
1
59
Dann Perry III Laughlin, NV
Laughlin, NV
-1
3
5
161
Donald Houghton Rosamond, CA
Rosamond, CA
2
4
4
48W
Cameron Williams Mohave Valley, AZ
Mohave Valley, AZ
-
5
6
421
Tyler Vache Apache Junction, AZ
Apache Junction, AZ
1
6
3
9
Mark Hammill Las Vegas, NV
Las Vegas, NV
-3
All transfer
Finish
Start
#
Competitor
Hometown
+/-
1
3
18M
Noah Geer Mohave Valley, AZ
Mohave Valley, AZ
2
2
4
911
Vinny Raucci Jr Las Vegas, NV
Las Vegas, NV
2
3
1
16
Morgan Meyer San Diego, CA
San Diego, CA
-2
4
2
7
Billy Griffin Buena Park, CA
Buena Park, CA
-2
5
5
91T
Joey Mogar Boulder City, NV
Boulder City, NV
-
6
6
22
Kane Williams Las Vegas, NV
Las Vegas, NV
-
All transfer
Dwarf
Finish
Start
#
Competitor
Hometown
+/-
1
3
00X
David Teves Golden Valley, AZ
Golden Valley, AZ
2
2
2
12X
John Isabella Santee, CA
Santee, CA
-
3
9
99
Shane Lenenberger Mohave Valley, AZ
Mohave Valley, AZ
6
4
8
55X
Kurtis Craig Golden Valley, AZ
Golden Valley, AZ
4
5
20
4X
Richie Abbott Henderson, NV
Henderson, NV
15
6
19
64X
Stacy Woods Logandale, NV
Logandale, NV
13
7
15
32X
Justin Fennern Mohave Valley, AZ
Mohave Valley, AZ
8
8
18
84X
Cody Bingman Las Vegas, NV
Las Vegas, NV
10
9
12
12D
Will Dykeman El Centro, CA
El Centro, CA
3
10
4
6X
Pat Petrie Henderson, NV
Henderson, NV
-6
11
1
10D
Wesley Dykeman El Centro, CA
El Centro, CA
-10
12
11
71X
Anthony Sturdivant Mohave Valley, AZ
Mohave Valley, AZ
-1
13
14
72X
Austin Sturdivant Fort Mohave, AZ
Fort Mohave, AZ
1
14
17
56X
Bob Hooker Fort Mohave, AZ
Fort Mohave, AZ
3
15
7
726X
Stephen Tygard Casper, WY
Casper, WY
-8
16
13
82X
Ryan Carroll Bullhead City, AZ
Bullhead City, AZ
-3
17
6
13
Dan Morris Phoenix, AZ
Phoenix, AZ
-11
18
22
3X
Kat Morris Henderson, NV
Henderson, NV
4
19
16
28X
Darrin Fennern
-3
20
21
42X
Mike Kash Kingman, AZ
Kingman, AZ
1
21
5
1X
Ridge Abbott Henderson, NV
Henderson, NV
-16
22
23
626R
Joe Perez Pitsburg, CA
Pitsburg, CA
1
23
10
45X
Billy Gereghty Lake Havasu, AZ
Lake Havasu, AZ
-13
DNS
24
21X
Dewey Myers Ramona, CA
Ramona, CA
-
Finish
Start
#
Competitor
Hometown
+/-
1
1
64X
Stacy Woods Logandale, NV
Logandale, NV
-
2
4
4X
Richie Abbott Henderson, NV
Henderson, NV
2
3
6
42X
Mike Kash Kingman, AZ
Kingman, AZ
3
4
11
3X
Kat Morris Henderson, NV
Henderson, NV
7
5
2
626R
Joe Perez Pitsburg, CA
Pitsburg, CA
-3
6
3
21X
Dewey Myers Ramona, CA
Ramona, CA
-3
Top 6 transfer
7
5
321X
Scott Waller Lake Havasu City, AZ
Lake Havasu City, AZ
-2
8
12
C21
Jason Richardson Golden Valley, AZ
Golden Valley, AZ
4
9
9
50X
Ryan Bergquist Henderson, NV
Henderson, NV
-
DNS
7
91X
Matthew Carroll Fort Mohave, AZ
Fort Mohave, AZ
-
DNS
10
12
John Foster Glendale, AZ
Glendale, AZ
-
DNS
8
4
Bailey Delozier Phoenix, AZ
Phoenix, AZ
-
Finish
Start
#
Competitor
Hometown
+/-
1
2
6X
Pat Petrie Henderson, NV
Henderson, NV
1
2
3
10D
Wesley Dykeman El Centro, CA
El Centro, CA
1
3
10
726X
Stephen Tygard Casper, WY
Casper, WY
7
4
9
45X
Billy Gereghty Lake Havasu, AZ
Lake Havasu, AZ
5
5
6
82X
Ryan Carroll Bullhead City, AZ
Bullhead City, AZ
1
6
7
28X
Darrin Fennern
1
Top 6 transfer
7
5
64X
Stacy Woods Logandale, NV
Logandale, NV
-2
8
1
4X
Richie Abbott Henderson, NV
Henderson, NV
-7
9
8
12
John Foster Glendale, AZ
Glendale, AZ
-1
DNS
4
91X
Matthew Carroll Fort Mohave, AZ
Fort Mohave, AZ
-
Finish
Start
#
Competitor
Hometown
+/-
1
3
00X
David Teves Golden Valley, AZ
Golden Valley, AZ
2
2
2
1X
Ridge Abbott Henderson, NV
Henderson, NV
-
3
8
55X
Kurtis Craig Golden Valley, AZ
Golden Valley, AZ
5
4
6
71X
Anthony Sturdivant Mohave Valley, AZ
Mohave Valley, AZ
2
5
9
72X
Austin Sturdivant Fort Mohave, AZ
Fort Mohave, AZ
4
6
10
56X
Bob Hooker Fort Mohave, AZ
Fort Mohave, AZ
4
Top 6 transfer
7
1
626R
Joe Perez Pitsburg, CA
Pitsburg, CA
-6
8
7
321X
Scott Waller Lake Havasu City, AZ
Lake Havasu City, AZ
-1
9
5
4
Bailey Delozier Phoenix, AZ
Phoenix, AZ
-4
10
4
3X
Kat Morris Henderson, NV
Henderson, NV
-6
Finish
Start
#
Competitor
Hometown
+/-
1
6
12X
John Isabella Santee, CA
Santee, CA
5
2
1
13
Dan Morris Phoenix, AZ
Phoenix, AZ
-1
3
2
99
Shane Lenenberger Mohave Valley, AZ
Mohave Valley, AZ
-1
4
5
12D
Will Dykeman El Centro, CA
El Centro, CA
1
5
3
32X
Justin Fennern Mohave Valley, AZ
Mohave Valley, AZ
-2
6
8
84X
Cody Bingman Las Vegas, NV
Las Vegas, NV
2
Top 6 transfer
7
7
21X
Dewey Myers Ramona, CA
Ramona, CA
-
8
10
42X
Mike Kash Kingman, AZ
Kingman, AZ
2
9
4
50X
Ryan Bergquist Henderson, NV
Henderson, NV
-5
10
9
C21
Jason Richardson Golden Valley, AZ
Golden Valley, AZ
-1
Mini Dwarfs - Masters
15 Laps
A Feature 1Hartwick's Tax Service
6 Laps
Heat 1Hartwick's Tax Service
Finish
Start
#
Competitor
Hometown
+/-
1
1
33
Luke Spring Fort Mohave, AZ
Fort Mohave, AZ
-
2
2
12X
Cody Isabella Santee, CA
Santee, CA
-
3
3
9
Micah Morris Henderson, NV
Henderson, NV
-
4
4
10J
Justin Carney Las Vegas, NV
Las Vegas, NV
-
All transfer
Mini Dwarfs - Sportman
12 Laps
A Feature 1Hartwick's Tax Service
Finish
Start
#
Competitor
Hometown
+/-
1
5
48S
Sadielee Talkington Riverside, CA
Riverside, CA
4
2
8
1
Braylon Martin Lake Havasu City, AZ
Lake Havasu City, AZ
6
3
11
16
Charles Lynch Fort Mohave, AZ
Fort Mohave, AZ
8
4
12
42
Kingsley Beck Fort Mohave, AZ
Fort Mohave, AZ
8
5
2
5T
Tucker Geer Mohave Valley, AZ
Mohave Valley, AZ
-3
6
9
15X
Kaydence Fennern Mohave Valley, AZ
Mohave Valley, AZ
3
7
4
33X
Noah Spring Fort Mohave, AZ
Fort Mohave, AZ
-3
8
3
50
Brody Bergquist Henderson, NV
Henderson, NV
-5
9
1
451/2
Jeep Gereghty Lake Havasu City, AZ
Lake Havasu City, AZ
-8
10
10
24K
Makenzie Martel Bullhead City, AZ
Bullhead City, AZ
-
11
6
35
Ryder Spring Fort Mohave, AZ
Fort Mohave, AZ
-5
12
7
24C
Carter Martel Bullhead City, AZ
Bullhead City, AZ
-5
6 Laps
Heat 1Hartwick's Tax Service
Finish
Start
#
Competitor
Hometown
+/-
1
1
35
Ryder Spring Fort Mohave, AZ
Fort Mohave, AZ
-
2
2
50
Brody Bergquist Henderson, NV
Henderson, NV
-
3
3
24C
Carter Martel Bullhead City, AZ
Bullhead City, AZ
-
4
4
24K
Makenzie Martel Bullhead City, AZ
Bullhead City, AZ
-
All transfer
6 Laps
Heat 2Hartwick's Tax Service
Finish
Start
#
Competitor
Hometown
+/-
1
3
48S
Sadielee Talkington Riverside, CA
Riverside, CA
2
2
1
5T
Tucker Geer Mohave Valley, AZ
Mohave Valley, AZ
-1
3
2
1
Braylon Martin Lake Havasu City, AZ
Lake Havasu City, AZ
-1
4
4
16
Charles Lynch Fort Mohave, AZ
Fort Mohave, AZ
-
All transfer
6 Laps
Heat 3Hartwick's Tax Service
Finish
Start
#
Competitor
Hometown
+/-
1
1
33X
Noah Spring Fort Mohave, AZ
Fort Mohave, AZ
-
2
3
451/2
Jeep Gereghty Lake Havasu City, AZ
Lake Havasu City, AZ
1
3
2
15X
Kaydence Fennern Mohave Valley, AZ
Mohave Valley, AZ
-1
4
4
42
Kingsley Beck Fort Mohave, AZ
Fort Mohave, AZ
-
All transfer
IMCA Stock Car
Finish
Start
#
Competitor
Hometown
+/-
1
1
18M
Billy Griffin Buena Park, CA
Buena Park, CA
-
2
6
02X
Larry Brigner Apache Junction, AZ
Apache Junction, AZ
4
3
2
41
George Fronsman Surprise, AZ
Surprise, AZ
-1
4
5
33J
Jon Stringfellow Lake Havasu City, AZ
Lake Havasu City, AZ
1
5
9
91
Brandon Bartolotti Mohave Valley, AZ
Mohave Valley, AZ
4
6
3
5M
Trevor Hidalgo
-3
7
4
27
Buddy Wade Congress, AZ
Congress, AZ
-3
8
8
Z13
Buff Van Landingham Prescott Valley, AZ
Prescott Valley, AZ
-
DNS
7
33
John Haller Fort Mohave, AZ
Fort Mohave, AZ
-
Finish
Start
#
Competitor
Hometown
+/-
1
2
18M
Billy Griffin Buena Park, CA
Buena Park, CA
1
2
7
41
George Fronsman Surprise, AZ
Surprise, AZ
5
3
6
5M
Trevor Hidalgo
3
4
1
27
Buddy Wade Congress, AZ
Congress, AZ
-3
5
3
33J
Jon Stringfellow Lake Havasu City, AZ
Lake Havasu City, AZ
-2
6
4
02X
Larry Brigner Apache Junction, AZ
Apache Junction, AZ
-2
7
8
33
John Haller Fort Mohave, AZ
Fort Mohave, AZ
1
8
5
Z13
Buff Van Landingham Prescott Valley, AZ
Prescott Valley, AZ
-3
9
9
91
Brandon Bartolotti Mohave Valley, AZ
Mohave Valley, AZ
-
All transfer