Saturday Nights Are for Racing!
Join Us Saturday Night September 30th for 7pm weekly racing!
Live Weekly Racing Brought to you by Dirt Race Central! If you are unable to make the races every week, we have a LIVE streaming partner!

Sprint Cars Are BACK!
Join us October 14th for the Sprint Cars at Mohave Valley Raceway!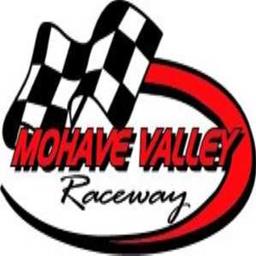 3/18/2023 - Mohave Valley Raceway
Bullhead City, AZ
"Weekly" Racing including Western Midget Racing (WMR)
RUNNING ORDER (Saturday 3/18)
Street Stocks
IMCA Modifieds
Midgets
Dwarfs
Pits:
Car & Driver - $45
Mini Dwarf Driver - $25
Pit Pass - $35
Pit Pass 12 and under - $20
We use MyLaps Transponders.
A working raceceiver is required. The frequency is 454.0.
Main Grandstands:
General Admission - $12.00
Seniors (60 & Over) - $10.00
Military - $10 (need to show ID)
Children 6-12 - $6.00
Children 5 & Under - FREE!!!!
Cash Only for tickets and pits. No ATMs on site. Concessions, souvenirs, & the Beer garden is cash or card
We do not sell nor offer tickets prior to race day. They have to be purchased in person
** Ice Chests, Outside Food and Beverages are NOT permitted.**
IMCA Modified

24 entries

Street Stocks

21 entries

Dwarf

14 entries

Midgets

22 entries
Full Event Information on MyRacePass
IMCA Modified
Finish
Start
#
Competitor
Hometown
+/-
1
8
223
Jake Pike Pahrump, NV
Pahrump, NV
7
2
11
03X
Troy Morris III Bakersfield, CA
Bakersfield, CA
9
3
10
28
Trevor Fitz Camarillo, CA
Camarillo, CA
7
4
5
161
Donald Houghton Rosamond, CA
Rosamond, CA
1
5
6
59
Dann Perry III Laughlin, NV
Laughlin, NV
1
6
7
43
Brady Gladd Las Vegas, NV
Las Vegas, NV
1
7
4
48W
Cameron Williams Mohave Valley, AZ
Mohave Valley, AZ
-3
8
20
07T
Randy Thornell Hesperia, CA
Hesperia, CA
12
9
16
11*
Shawn Zelenka Conrad, MT
Conrad, MT
7
10
2
88
Johnny Malcolm
-8
11
12
14
Conner Woodward Kingman, AZ
Kingman, AZ
1
12
13
13
Jeff Sheppard Jr Golden Valley, AZ
Golden Valley, AZ
1
13
1
390
Rick Durica Las Vegas, NV
Las Vegas, NV
-12
14
21
9
Mark Hammill Las Vegas, NV
Las Vegas, NV
7
15
24
18M
Noah Geer Mohave Valley, AZ
Mohave Valley, AZ
9
16
19
15F
Markus Frazier Santa Maria, CA
Santa Maria, CA
3
17
17
27
Timothy Allerdings Prescott Valley, AZ
Prescott Valley, AZ
-
18
3
11
Adam Marx Fort Mohave, AZ
Fort Mohave, AZ
-15
19
9
61H
Dalton Houghton Rosamond, CA
Rosamond, CA
-10
20
14
22X
Jason Pike Pahrump, NV
Pahrump, NV
-6
21
15
621
Jeff Houghton Rosemond, CA
Rosemond, CA
-6
22
22
25
Rick Becker Highland, CA
Highland, CA
-
23
23
61K
Kegan Head Quartz Hill, CA
Quartz Hill, CA
-
24
18
34
Bill Maxwell Mohave Valley, AZ
Mohave Valley, AZ
-6
Finish
Start
#
Competitor
Hometown
+/-
1
3
18M
Noah Geer Mohave Valley, AZ
Mohave Valley, AZ
2
2
5
43
Brady Gladd Las Vegas, NV
Las Vegas, NV
3
3
4
161
Donald Houghton Rosamond, CA
Rosamond, CA
1
4
6
28
Trevor Fitz Camarillo, CA
Camarillo, CA
2
5
2
14
Conner Woodward Kingman, AZ
Kingman, AZ
-3
6
7
621
Jeff Houghton Rosemond, CA
Rosemond, CA
1
7
8
34
Bill Maxwell Mohave Valley, AZ
Mohave Valley, AZ
1
DNS
1
61K
Kegan Head Quartz Hill, CA
Quartz Hill, CA
-
All transfer
Finish
Start
#
Competitor
Hometown
+/-
1
2
88
Johnny Malcolm
1
2
6
03X
Troy Morris III Bakersfield, CA
Bakersfield, CA
4
3
4
59
Dann Perry III Laughlin, NV
Laughlin, NV
1
4
5
223
Jake Pike Pahrump, NV
Pahrump, NV
1
5
3
13
Jeff Sheppard Jr Golden Valley, AZ
Golden Valley, AZ
-2
6
8
11*
Shawn Zelenka Conrad, MT
Conrad, MT
2
7
7
15F
Markus Frazier Santa Maria, CA
Santa Maria, CA
-
8
1
9
Mark Hammill Las Vegas, NV
Las Vegas, NV
-7
All transfer
Finish
Start
#
Competitor
Hometown
+/-
1
5
61H
Dalton Houghton Rosamond, CA
Rosamond, CA
4
2
3
48W
Cameron Williams Mohave Valley, AZ
Mohave Valley, AZ
1
3
2
11
Adam Marx Fort Mohave, AZ
Fort Mohave, AZ
-1
4
1
390
Rick Durica Las Vegas, NV
Las Vegas, NV
-3
5
7
22X
Jason Pike Pahrump, NV
Pahrump, NV
2
6
4
27
Timothy Allerdings Prescott Valley, AZ
Prescott Valley, AZ
-2
7
8
07T
Randy Thornell Hesperia, CA
Hesperia, CA
1
8
6
25
Rick Becker Highland, CA
Highland, CA
-2
All transfer
Street Stocks
Finish
Start
#
Competitor
Hometown
+/-
1
12
28
Jared Ward Pahrump, NV
Pahrump, NV
11
2
11
05
Adam Tiscareno Las Vegas, NV
Las Vegas, NV
9
3
1
77
Steven Hartwick Mohave Valley, AZ
Mohave Valley, AZ
-2
4
19
33
Wyatt Maxwell Mohave Valley, AZ
Mohave Valley, AZ
15
5
9
2
Stevi Christy Mohave Valley, AZ
Mohave Valley, AZ
4
6
14
69
Vinny Raucci Sr Las Vegas, NV
Las Vegas, NV
8
7
7
22
Jay Ward Las Vegas, NV
Las Vegas, NV
-
8
20
49
Dale Daffern Las Vegas, NV
Las Vegas, NV
12
9
3
11W
John Wilson Mohave Valley, AZ
Mohave Valley, AZ
-6
10
2
401
Tim Bonnee Kingman, AZ
Kingman, AZ
-8
11
8
20
Debbie Ward Las Vegas, NV
Las Vegas, NV
-3
12
5
61
Robert Rittgers Las Vegas, NV
Las Vegas, NV
-7
13
21
91
Damien Hines Rockhill, SC
Rockhill, SC
8
14
15
82
Eric Mewhorter Pahrump, NV
Pahrump, NV
1
15
13
34
Kim Maxwell Mohave Valley, AZ
Mohave Valley, AZ
-2
16
10
122
Hayden Goveia Fort Mohave, AZ
Fort Mohave, AZ
-6
17
17
64
Thomas Soper San Diego, CA
San Diego, CA
-
18
6
8
Daniel Leslie Kingman, AZ
Kingman, AZ
-12
19
16
7T
Wayne Taylor Fort Mohave, AZ
Fort Mohave, AZ
-3
20
4
3
Bill Maxwell Mohave Valley, AZ
Mohave Valley, AZ
-16
DNS
18
00
Shannen Blowers Mohave Valley, AZ
Mohave Valley, AZ
-
Finish
Start
#
Competitor
Hometown
+/-
1
7
3
Bill Maxwell Mohave Valley, AZ
Mohave Valley, AZ
6
2
2
77
Steven Hartwick Mohave Valley, AZ
Mohave Valley, AZ
-
3
4
22
Jay Ward Las Vegas, NV
Las Vegas, NV
1
4
6
8
Daniel Leslie Kingman, AZ
Kingman, AZ
2
5
3
34
Kim Maxwell Mohave Valley, AZ
Mohave Valley, AZ
-2
6
1
7T
Wayne Taylor Fort Mohave, AZ
Fort Mohave, AZ
-5
7
5
33
Wyatt Maxwell Mohave Valley, AZ
Mohave Valley, AZ
-2
All transfer
Finish
Start
#
Competitor
Hometown
+/-
1
2
28
Jared Ward Pahrump, NV
Pahrump, NV
1
2
7
122
Hayden Goveia Fort Mohave, AZ
Fort Mohave, AZ
5
3
3
11W
John Wilson Mohave Valley, AZ
Mohave Valley, AZ
-
4
5
2
Stevi Christy Mohave Valley, AZ
Mohave Valley, AZ
1
5
6
69
Vinny Raucci Sr Las Vegas, NV
Las Vegas, NV
1
6
4
64
Thomas Soper San Diego, CA
San Diego, CA
-2
7
1
49
Dale Daffern Las Vegas, NV
Las Vegas, NV
-6
All transfer
Finish
Start
#
Competitor
Hometown
+/-
1
1
05
Adam Tiscareno Las Vegas, NV
Las Vegas, NV
-
2
6
20
Debbie Ward Las Vegas, NV
Las Vegas, NV
4
3
2
401
Tim Bonnee Kingman, AZ
Kingman, AZ
-1
4
5
61
Robert Rittgers Las Vegas, NV
Las Vegas, NV
1
5
4
82
Eric Mewhorter Pahrump, NV
Pahrump, NV
-1
6
7
91
Damien Hines Rockhill, SC
Rockhill, SC
1
7
3
00
Shannen Blowers Mohave Valley, AZ
Mohave Valley, AZ
-4
All transfer
Dwarf
Finish
Start
#
Competitor
Hometown
+/-
1
2
00X
David Teves Golden Valley, AZ
Golden Valley, AZ
1
2
3
55X
Kurtis Craig Golden Valley, AZ
Golden Valley, AZ
1
3
1
5X
Peter Gozinya Phoenix, AZ
Phoenix, AZ
-2
4
4
32X
Justin Fennern Mohave Valley, AZ
Mohave Valley, AZ
-
5
6
5
Gary Wegener Kalama, WA
Kalama, WA
1
6
5
6X
Pat Petrie Henderson, NV
Henderson, NV
-1
7
14
97
Tyler Fulcher Ojai, CA
Ojai, CA
7
8
7
84X
Cody Bingman Las Vegas, NV
Las Vegas, NV
-1
9
13
C21
Jason Richardson Golden Valley, AZ
Golden Valley, AZ
4
10
8
10D
Wesley Dykeman El Centro, CA
El Centro, CA
-2
11
12
28X
Darrin Fennern
1
12
11
42X
Mike Kash Kingman, AZ
Kingman, AZ
-1
13
9
56X
Bob Hooker Fort Mohave, AZ
Fort Mohave, AZ
-4
14
10
3X
Kat Morris Henderson, NV
Henderson, NV
-4
Finish
Start
#
Competitor
Hometown
+/-
1
7
00X
David Teves Golden Valley, AZ
Golden Valley, AZ
6
2
6
55X
Kurtis Craig Golden Valley, AZ
Golden Valley, AZ
4
3
1
6X
Pat Petrie Henderson, NV
Henderson, NV
-2
4
4
84X
Cody Bingman Las Vegas, NV
Las Vegas, NV
-
5
2
56X
Bob Hooker Fort Mohave, AZ
Fort Mohave, AZ
-3
6
5
42X
Mike Kash Kingman, AZ
Kingman, AZ
-1
7
3
C21
Jason Richardson Golden Valley, AZ
Golden Valley, AZ
-4
All transfer
Finish
Start
#
Competitor
Hometown
+/-
1
1
5X
Peter Gozinya Phoenix, AZ
Phoenix, AZ
-
2
3
32X
Justin Fennern Mohave Valley, AZ
Mohave Valley, AZ
1
3
4
5
Gary Wegener Kalama, WA
Kalama, WA
1
4
6
10D
Wesley Dykeman El Centro, CA
El Centro, CA
2
5
7
3X
Kat Morris Henderson, NV
Henderson, NV
2
6
2
28X
Darrin Fennern
-4
7
5
97
Tyler Fulcher Ojai, CA
Ojai, CA
-2
All transfer
Midgets
Finish
Start
#
Competitor
Hometown
+/-
1
4
4
Drake Edwards Surprise, AZ
Surprise, AZ
3
2
6
7
Isaiah Vasquez Sacramento, CA
Sacramento, CA
4
3
14
76
Nate Wait Lodi, CA
Lodi, CA
11
4
5
29
Cory Brown Peoria, AZ
Peoria, AZ
1
5
12
20
Kyle Hawse Las Vegas, NV
Las Vegas, NV
7
6
16
50S
Rocky Silva Kapolei, HI
Kapolei, HI
10
7
9
21
Brody Wake Lake Havasu City, AZ
Lake Havasu City, AZ
2
8
1
57
Kyle Huttenhow Surprise, AZ
Surprise, AZ
-7
9
17
28
J.R. Wood Surprise, AZ
Surprise, AZ
8
10
13
31
Todd Hawse moor park, CA
moor park, CA
3
11
10
3AZ
Chloe High Peoria, AZ
Peoria, AZ
-1
12
18
81K
Rickey Kinney Jr Buckey, AZ
Buckey, AZ
6
13
22
66
Darin Horton Lindley, NY
Lindley, NY
9
14
11
01
Nathan High Goodyear, AZ
Goodyear, AZ
-3
15
8
33
Tyler High Goodyear, AZ
Goodyear, AZ
-7
16
2
11
AJ Hernandez Phoenix, AZ
Phoenix, AZ
-14
17
20
48
Gary DeWitt Mesa, AZ
Mesa, AZ
3
18
21
68
Gene Sigal Malibu, CA
Malibu, CA
3
19
7
96X
Logan Mitchell Santa Cruz, CA
Santa Cruz, CA
-12
20
3
5S
Racin Silva Henderson, NV
Henderson, NV
-17
21
15
42
Brian Corso Ripon, CA
Ripon, CA
-6
DNS
19
50K
Patrick Kop Kaliua, HI
Kaliua, HI
-
Finish
Start
#
Competitor
Hometown
+/-
1
7
4
Drake Edwards Surprise, AZ
Surprise, AZ
6
2
3
57
Kyle Huttenhow Surprise, AZ
Surprise, AZ
1
3
4
96X
Logan Mitchell Santa Cruz, CA
Santa Cruz, CA
1
4
5
3AZ
Chloe High Peoria, AZ
Peoria, AZ
1
5
1
31
Todd Hawse moor park, CA
moor park, CA
-4
6
6
50S
Rocky Silva Kapolei, HI
Kapolei, HI
-
7
8
68
Gene Sigal Malibu, CA
Malibu, CA
1
8
2
48
Gary DeWitt Mesa, AZ
Mesa, AZ
-6
All transfer
Finish
Start
#
Competitor
Hometown
+/-
1
2
5S
Racin Silva Henderson, NV
Henderson, NV
1
2
3
29
Cory Brown Peoria, AZ
Peoria, AZ
1
3
5
33
Tyler High Goodyear, AZ
Goodyear, AZ
2
4
6
01
Nathan High Goodyear, AZ
Goodyear, AZ
2
5
1
76
Nate Wait Lodi, CA
Lodi, CA
-4
6
7
28
J.R. Wood Surprise, AZ
Surprise, AZ
1
7
4
50K
Patrick Kop Kaliua, HI
Kaliua, HI
-3
All transfer
Finish
Start
#
Competitor
Hometown
+/-
1
2
11
AJ Hernandez Phoenix, AZ
Phoenix, AZ
1
2
6
7
Isaiah Vasquez Sacramento, CA
Sacramento, CA
4
3
5
21
Brody Wake Lake Havasu City, AZ
Lake Havasu City, AZ
2
4
1
20
Kyle Hawse Las Vegas, NV
Las Vegas, NV
-3
5
3
42
Brian Corso Ripon, CA
Ripon, CA
-2
6
4
81K
Rickey Kinney Jr Buckey, AZ
Buckey, AZ
-2
7
7
66
Darin Horton Lindley, NY
Lindley, NY
-
All transfer