Saturday Nights Are for Racing!
Join Us Saturday Night September 30th for 7pm weekly racing!
Live Weekly Racing Brought to you by Dirt Race Central! If you are unable to make the races every week, we have a LIVE streaming partner!

Sprint Cars Are BACK!
Join us October 14th for the Sprint Cars at Mohave Valley Raceway!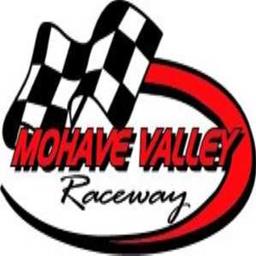 3/10/2023 - Mohave Valley Raceway
Bullhead City, AZ
Western States Dwarf Car Assoc. National - hosted by SNDCA
Pits:
Pit Pass (everyone over 13 - drivers, crews, fans, etc): $40
Mini Dwarf Driver - $25
Pit Pass 12 & under - $30
CASH ONLY! No checks will be accepted.
Personal vehicles or side by sides, etc are NOT allowed in the pits. If it is not towing the race car/truck, on the trailer with the car, or in the trailer with the car, then it will NOT be allowed. NO exceptions!

We use MyLaps Transponders.

A working raceceiver is required. The frequency is 454.0.
Main Grandstands:
General Admission - $12.00
Seniors (60 & Over) - $10.00
Military - $10 (need to show ID)
Children 6-12 - $6.00
Children 5 & Under - FREE!!!!
Cash Only for tickets and pits. No ATMs on site.*
We do not sell nor offer tickets prior to race day. They have to be purchased in person
** Ice Chests, Outside Food and Beverages are NOT permitted.**
Open 4 Cylinders

9 entries

Pro Dwarf

26 entries

Sportsman Dwarf

27 entries

Veteran Dwarf

22 entries

Mini Dwarfs - Masters

7 entries

Mini Dwarfs - Sportman

8 entries
Full Event Information on MyRacePass
Open 4 Cylinders
Finish
Start
#
Competitor
Hometown
+/-
1
8
XXX
Eric Weis Caladona, NY
Caladona, NY
7
2
7
77
Steven Hartwick Mohave Valley, AZ
Mohave Valley, AZ
5
3
4
57
Wayne Conner Kingman, AZ
Kingman, AZ
1
4
2
59D
Larry Dowell Las Vegas, NV
Las Vegas, NV
-2
5
6
2X
Ethan Gardner Mohave Valley, AZ
Mohave Valley, AZ
1
6
3
13
Cory Vale Fort Mohave, AZ
Fort Mohave, AZ
-3
7
5
17D
Dennis Dowell Boulder City, NV
Boulder City, NV
-2
8
1
415
Misty Bonnee Kingman, AZ
Kingman, AZ
-7
DNS
9
22
Elizabeth Cowley Las Vegas, NV
Las Vegas, NV
-
Finish
Start
#
Competitor
Hometown
+/-
1
1
XXX
Eric Weis Caladona, NY
Caladona, NY
-
2
3
77
Steven Hartwick Mohave Valley, AZ
Mohave Valley, AZ
1
3
8
57
Wayne Conner Kingman, AZ
Kingman, AZ
5
4
5
59D
Larry Dowell Las Vegas, NV
Las Vegas, NV
1
5
2
2X
Ethan Gardner Mohave Valley, AZ
Mohave Valley, AZ
-3
6
9
13
Cory Vale Fort Mohave, AZ
Fort Mohave, AZ
3
7
6
17D
Dennis Dowell Boulder City, NV
Boulder City, NV
-1
8
7
415
Misty Bonnee Kingman, AZ
Kingman, AZ
-1
DNS
4
22
Elizabeth Cowley Las Vegas, NV
Las Vegas, NV
-
All transfer
Pro Dwarf
Finish
Start
#
Competitor
Hometown
+/-
1
1
14E
Tommy Velasquez III Camarillo, CA
Camarillo, CA
-
2
5
41E
Nick Velasquez Camarillo, CA
Camarillo, CA
3
3
2
48
Trent Morley Woodland Hills, CA
Woodland Hills, CA
-1
4
7
16D
Joe Frock Reno, NV
Reno, NV
3
5
4
31DD
Ellie Russo Baypoint, CA
Baypoint, CA
-1
6
8
11DD
Danny Wagner Baypoint, CA
Baypoint, CA
2
7
11
88O
Anthony Pope Roseburg, OR
Roseburg, OR
4
8
10
55X
Kurtis Craig
2
9
19
35R
Dennis Liebig Scappoose, OR
Scappoose, OR
10
10
26
1X
Ridge Abbott Henderson, NV
Henderson, NV
16
11
23
63D
Dalton Hatten Craig, CO
Craig, CO
12
12
12
29O
Jake Tupper Warren, OR
Warren, OR
-
13
20
9X
Kane Williams Las Vegas, NV
Las Vegas, NV
7
14
9
177X
Orey Woods Logandale, NV
Logandale, NV
-5
15
15
72E
Hunter Burgett Phoenix, AZ
Phoenix, AZ
-
16
13
381
Kinser Endicott Corning, CA
Corning, CA
-3
17
6
19K
Kobe Kerns Santa Maria, CA
Santa Maria, CA
-11
18
21
01
Chris Kress Roseburg, OR
Roseburg, OR
3
19
24
12X
John Isabella Santee, CA
Santee, CA
5
20
3
88
Michael Tobiason Ramona, CA
Ramona, CA
-17
21
16
5S
Travis Gergel Grants Pass, OR
Grants Pass, OR
-5
22
22
24
Dominic Maldonado Thousand Oaks, CA
Thousand Oaks, CA
-
23
14
12D
Will Dykeman El Centro, CA
El Centro, CA
-9
24
25
32X
Justin Fennern Mohave Valley, AZ
Mohave Valley, AZ
1
DNS
18
88E
Jeff Brink Ventura, CA
Ventura, CA
-
DNS
17
93X
Jason Horton Oxnard, CA
Oxnard, CA
-
Finish
Start
#
Competitor
Hometown
+/-
1
1
14E
Tommy Velasquez III Camarillo, CA
Camarillo, CA
-
2
4
31DD
Ellie Russo Baypoint, CA
Baypoint, CA
2
3
9
16D
Joe Frock Reno, NV
Reno, NV
6
4
3
55X
Kurtis Craig
-1
5
5
381
Kinser Endicott Corning, CA
Corning, CA
-
6
2
5S
Travis Gergel Grants Pass, OR
Grants Pass, OR
-4
7
6
35R
Dennis Liebig Scappoose, OR
Scappoose, OR
-1
8
7
24
Dominic Maldonado Thousand Oaks, CA
Thousand Oaks, CA
-1
9
8
12X
John Isabella Santee, CA
Santee, CA
-1
Finish
Start
#
Competitor
Hometown
+/-
1
1
48
Trent Morley Woodland Hills, CA
Woodland Hills, CA
-
2
5
41E
Nick Velasquez Camarillo, CA
Camarillo, CA
3
3
7
11DD
Danny Wagner Baypoint, CA
Baypoint, CA
4
4
8
88O
Anthony Pope Roseburg, OR
Roseburg, OR
4
5
2
12D
Will Dykeman El Centro, CA
El Centro, CA
-3
6
6
93X
Jason Horton Oxnard, CA
Oxnard, CA
-
7
4
9X
Kane Williams Las Vegas, NV
Las Vegas, NV
-3
8
3
63D
Dalton Hatten Craig, CO
Craig, CO
-5
9
9
32X
Justin Fennern Mohave Valley, AZ
Mohave Valley, AZ
-
Finish
Start
#
Competitor
Hometown
+/-
1
7
88
Michael Tobiason Ramona, CA
Ramona, CA
6
2
5
19K
Kobe Kerns Santa Maria, CA
Santa Maria, CA
3
3
6
177X
Orey Woods Logandale, NV
Logandale, NV
3
4
8
29O
Jake Tupper Warren, OR
Warren, OR
4
5 DNF
2
72E
Hunter Burgett Phoenix, AZ
Phoenix, AZ
-3
6 DNF
4
88E
Jeff Brink Ventura, CA
Ventura, CA
-2
7 DNF
1
01
Chris Kress Roseburg, OR
Roseburg, OR
-6
DNS
3
1X
Ridge Abbott Henderson, NV
Henderson, NV
-
Sportsman Dwarf
Finish
Start
#
Competitor
Hometown
+/-
1
1
18H
Tucker Hislop Vernal, UT
Vernal, UT
-
2
4
91
Wyatt Simper Vernal, UT
Vernal, UT
2
3
5
5O
Teagan Fischer St. Helens, OR
St. Helens, OR
2
4
12
21X
Dewey Myers Ramona, CA
Ramona, CA
8
5
7
06
Marek Pipe Greeley, CO
Greeley, CO
2
6
2
93X
Shane Linenberger , CA
, CA
-4
7
15
26X
Dan Varner Pine Valley, CA
Pine Valley, CA
8
8
8
22
Corwin Simper Vernal, UT
Vernal, UT
-
9
10
42O
Dennis Tower Rainer, OR
Rainer, OR
1
10
13
25E
Kenneth Smith Orcutt, CA
Orcutt, CA
3
11
19
33
Kelly Woods St. George, UT
St. George, UT
8
12
3
52
Roman Swain Roosevelt, UT
Roosevelt, UT
-9
13
20
82X
Ryan Carroll Bullhead City, AZ
Bullhead City, AZ
7
14
24
18
Alex Sundberg Dayton, NV
Dayton, NV
10
15
18
4E
Ian Velasquez Camerillo, CA
Camerillo, CA
3
16
6
72X
Austin Sturdivant Fort Mohave, AZ
Fort Mohave, AZ
-10
17
16
91X
Matthew Carroll Fort Mohave, AZ
Fort Mohave, AZ
-1
18
21
84X
Cody Bingman Las Vegas, NV
Las Vegas, NV
3
19
14
626R
Joe Perez Pitsburg, CA
Pitsburg, CA
-5
20
11
56X
Bob Hooker Fort Mohave, AZ
Fort Mohave, AZ
-9
21
17
10D
Wesley Dykeman El Centro, CA
El Centro, CA
-4
22
9
36E
Daniel Peters Camarillo, CA
Camarillo, CA
-13
DNS
22
C21
Jason Richardson Golden Valley, AZ
Golden Valley, AZ
-
DNS
23
17C
Clay Goben Cortez, CO
Cortez, CO
-
Finish
Start
#
Competitor
Hometown
+/-
1
2
91X
Matthew Carroll Fort Mohave, AZ
Fort Mohave, AZ
1
2
6
10D
Wesley Dykeman El Centro, CA
El Centro, CA
4
3
1
4E
Ian Velasquez Camerillo, CA
Camerillo, CA
-2
4
7
33
Kelly Woods St. George, UT
St. George, UT
3
5
3
82X
Ryan Carroll Bullhead City, AZ
Bullhead City, AZ
-2
6
4
84X
Cody Bingman Las Vegas, NV
Las Vegas, NV
-2
7
5
C21
Jason Richardson Golden Valley, AZ
Golden Valley, AZ
-2
8
8
17C
Clay Goben Cortez, CO
Cortez, CO
-
9
9
18
Alex Sundberg Dayton, NV
Dayton, NV
-
Top 9 transfer
DNS
11
31
Terry Christensen DOLORES, CO
DOLORES, CO
-
DNS
12
3X
Kat Morris Henderson, NV
Henderson, NV
-
DNS
10
83X
Don Thomas Logan Dale, NV
Logan Dale, NV
-
Finish
Start
#
Competitor
Hometown
+/-
1
4
18H
Tucker Hislop Vernal, UT
Vernal, UT
3
2
7
91
Wyatt Simper Vernal, UT
Vernal, UT
5
3
2
06
Marek Pipe Greeley, CO
Greeley, CO
-1
4
1
42O
Dennis Tower Rainer, OR
Rainer, OR
-3
5
6
25E
Kenneth Smith Orcutt, CA
Orcutt, CA
1
6
8
4E
Ian Velasquez Camerillo, CA
Camerillo, CA
2
7
5
84X
Cody Bingman Las Vegas, NV
Las Vegas, NV
-2
8
3
33
Kelly Woods St. George, UT
St. George, UT
-5
DNS
9
83X
Don Thomas Logan Dale, NV
Logan Dale, NV
-
Finish
Start
#
Competitor
Hometown
+/-
1
1
93X
Shane Linenberger , CA
, CA
-
2
5
5O
Teagan Fischer St. Helens, OR
St. Helens, OR
3
3
8
22
Corwin Simper Vernal, UT
Vernal, UT
5
4
2
56X
Bob Hooker Fort Mohave, AZ
Fort Mohave, AZ
-2
5
6
626R
Joe Perez Pitsburg, CA
Pitsburg, CA
1
6
4
91X
Matthew Carroll Fort Mohave, AZ
Fort Mohave, AZ
-2
7
7
C21
Jason Richardson Golden Valley, AZ
Golden Valley, AZ
-
8
3
17C
Clay Goben Cortez, CO
Cortez, CO
-5
DNS
9
31
Terry Christensen DOLORES, CO
DOLORES, CO
-
Finish
Start
#
Competitor
Hometown
+/-
1
1
52
Roman Swain Roosevelt, UT
Roosevelt, UT
-
2
4
72X
Austin Sturdivant Fort Mohave, AZ
Fort Mohave, AZ
2
3
7
36E
Daniel Peters Camarillo, CA
Camarillo, CA
4
4
3
21X
Dewey Myers Ramona, CA
Ramona, CA
-1
5
9
26X
Dan Varner Pine Valley, CA
Pine Valley, CA
4
6
5
82X
Ryan Carroll Bullhead City, AZ
Bullhead City, AZ
-1
7
8
10D
Wesley Dykeman El Centro, CA
El Centro, CA
1
8
6
18
Alex Sundberg Dayton, NV
Dayton, NV
-2
DNS
2
3X
Kat Morris Henderson, NV
Henderson, NV
-
Veteran Dwarf
Finish
Start
#
Competitor
Hometown
+/-
1
2
72N
Mike Reeder Placerville, CA
Placerville, CA
1
2
3
40X
Ronnie Williams Las Vegas, NV
Las Vegas, NV
1
3
10
18E
Tom Morley Woodland Hills, CA
Woodland Hills, CA
7
4
6
9N
Kevin Bender Rocklin, CA
Rocklin, CA
2
5
19
47A
Steve Kapaun Surprise, AZ
Surprise, AZ
14
6
11
64X
Stacy Woods Logandale, NV
Logandale, NV
5
7
8
32N
Dan Geil Auburn, CA
Auburn, CA
1
8
5
64E
Tommy Velasquez Camarillo, CA
Camarillo, CA
-3
9
16
5
Gary Wegener
7
10
18
71X
Anthony Sturdivant Mohave Valley, AZ
Mohave Valley, AZ
8
11
13
03P
John Pipe Greeley, CO
Greeley, CO
2
12
4
2E
Tony Margott Simi Valley, CA
Simi Valley, CA
-8
13
1
66B
Mark Biscardi San Jose, CA
San Jose, CA
-12
14
17
69B
Eddy Claessen Monterrey , CA
Monterrey , CA
3
15
12
94N
Denny Hannel Shingle Springs, CA
Shingle Springs, CA
-3
16
14
91E
Scotty Preast Santa Maria, CA
Santa Maria, CA
-2
17
15
6X
Pat Petrie Henderson, NV
Henderson, NV
-2
18
21
28X
James Bingman Las Vegas, NV
Las Vegas, NV
3
19
7
76D
Glenn Sciarani Yerington, NV
Yerington, NV
-12
20
9
98E
Frankie Politelli Aliso Viejo, CA
Aliso Viejo, CA
-11
DNS
20
1X
Richie Abbott Henderson, NV
Henderson, NV
-
DNS
22
17
Alan Mahoney Prescott, AZ
Prescott, AZ
-
Finish
Start
#
Competitor
Hometown
+/-
1
1
66B
Mark Biscardi San Jose, CA
San Jose, CA
-
2
3
2E
Tony Margott Simi Valley, CA
Simi Valley, CA
1
3
5
76D
Glenn Sciarani Yerington, NV
Yerington, NV
2
4
4
18E
Tom Morley Woodland Hills, CA
Woodland Hills, CA
-
5
2
03P
John Pipe Greeley, CO
Greeley, CO
-3
6
7
5
Gary Wegener
1
7
6
47A
Steve Kapaun Surprise, AZ
Surprise, AZ
-1
DNS
8
17
Alan Mahoney Prescott, AZ
Prescott, AZ
-
Finish
Start
#
Competitor
Hometown
+/-
1
1
72N
Mike Reeder Placerville, CA
Placerville, CA
-
2
5
64E
Tommy Velasquez Camarillo, CA
Camarillo, CA
3
3
7
32N
Dan Geil Auburn, CA
Auburn, CA
4
4
2
64X
Stacy Woods Logandale, NV
Logandale, NV
-2
5
4
91E
Scotty Preast Santa Maria, CA
Santa Maria, CA
-1
6
6
69B
Eddy Claessen Monterrey , CA
Monterrey , CA
-
DNS
3
1X
Richie Abbott Henderson, NV
Henderson, NV
-
Finish
Start
#
Competitor
Hometown
+/-
1
1
40X
Ronnie Williams Las Vegas, NV
Las Vegas, NV
-
2
2
9N
Kevin Bender Rocklin, CA
Rocklin, CA
-
3
4
98E
Frankie Politelli Aliso Viejo, CA
Aliso Viejo, CA
1
4
5
94N
Denny Hannel Shingle Springs, CA
Shingle Springs, CA
1
5
6
6X
Pat Petrie Henderson, NV
Henderson, NV
1
6
3
71X
Anthony Sturdivant Mohave Valley, AZ
Mohave Valley, AZ
-3
7
7
28X
James Bingman Las Vegas, NV
Las Vegas, NV
-
Mini Dwarfs - Masters
15 Laps
A Feature 1Hartwick's Tax Service
Finish
Start
#
Competitor
Hometown
+/-
1
3
33
Luke Spring Fort Mohave, AZ
Fort Mohave, AZ
2
2
1
96S
Brody Stewart Hesperia, CA
Hesperia, CA
-1
3
4
12X
Cody Isabella Santee, CA
Santee, CA
1
4
7
9
Micah Morris Henderson, NV
Henderson, NV
3
5
6
82P
Parker Sinibaldi Oak Hills, CA
Oak Hills, CA
1
6
5
77
Bryson Hartwick Mohave Valley, AZ
Mohave Valley, AZ
-1
7
2
10J
Justin Carney Las Vegas, NV
Las Vegas, NV
-5
8 Laps
Heat 1Hartwick's Tax Service
Finish
Start
#
Competitor
Hometown
+/-
1
4
96S
Brody Stewart Hesperia, CA
Hesperia, CA
3
2
3
33
Luke Spring Fort Mohave, AZ
Fort Mohave, AZ
1
3
1
77
Bryson Hartwick Mohave Valley, AZ
Mohave Valley, AZ
-2
DNS
2
9
Micah Morris Henderson, NV
Henderson, NV
-
All transfer
8 Laps
Heat 2Hartwick's Tax Service
Mini Dwarfs - Sportman
12 Laps
A Feature 1Hartwick's Tax Service
Finish
Start
#
Competitor
Hometown
+/-
1
1
48S
Sadielee Talkington Riverside, CA
Riverside, CA
-
2
2
35
Ryder Spring Fort Mohave, AZ
Fort Mohave, AZ
-
3
4
33X
Noah Spring Fort Mohave, AZ
Fort Mohave, AZ
1
4
5
24C
Carter Martel Bullhead City, AZ
Bullhead City, AZ
1
5
6
42
Kingsley Beck Fort Mohave, AZ
Fort Mohave, AZ
1
6
3
5
Colton Terhune Mohave Valley, AZ
Mohave Valley, AZ
-3
8 Laps
Heat 1Hartwick's Tax Service
Finish
Start
#
Competitor
Hometown
+/-
1
4
48S
Sadielee Talkington Riverside, CA
Riverside, CA
3
2
3
35
Ryder Spring Fort Mohave, AZ
Fort Mohave, AZ
1
3
6
5
Colton Terhune Mohave Valley, AZ
Mohave Valley, AZ
3
4
1
33X
Noah Spring Fort Mohave, AZ
Fort Mohave, AZ
-3
5
5
24C
Carter Martel Bullhead City, AZ
Bullhead City, AZ
-
6
2
42
Kingsley Beck Fort Mohave, AZ
Fort Mohave, AZ
-4
All transfer