May 20th at The Track
Join us for the last show of the season before summer break!
Live Weekly Racing Brought to you by Dirt Race Central! If you are unable to make the races every week, we have a LIVE streaming partner!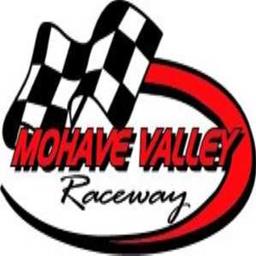 2/6/2022 - Mohave Valley Raceway
Bullhead City, AZ
Racing at Mohave Valley Raceway
Pits:
Car & Driver - $45
Mini Dwarf Driver - $25
Pit Pass - $35
Pit Pass 12 and under - $20
We use MyLaps Transponders and have a limited number of transponders available for rent. They are issued out on a first come basis. The cost to rent is $20 per night (and your driver's license).
A working raceceiver is required. The frequency is 454.0.
Main Grandstands:
General Admission - $12.00
Seniors (60 & Over) - $10.00
Military - $10 (need to show ID)
Children 6-12 - $6.00
Children 5 & Under - FREE!!!!
Cash Only for tickets and pits. No ATMs on site. Concessions, souvenirs, & the Beer garden is cash or card
We do not sell nor offer tickets prior to race day. They have to be purchased in person
** Ice Chests, Outside Food and Beverages are NOT permitted.**
IMCA Modified

14 entries

IMCA Northern SportMod

8 entries

IMCA Sport Compact

7 entries

Street Stocks

13 entries

IMCA Stock Car

3 entries
Full Event Information on MyRacePass
IMCA Modified
Finish
Start
#
Competitor
Hometown
+/-
1
9
15
Devin Fouquette St. Cloud, MN
St. Cloud, MN
8
2
1
223
Jake Pike Pahrump, NV
Pahrump, NV
-1
3
10
5L
Cody Laney Torrance, CA
Torrance, CA
7
4
7
61H
Dalton Houghton Rosamond, CA
Rosamond, CA
3
5
13
16
Morgan Meyer San Diego, CA
San Diego, CA
8
6
4
32S
Brady Gladd Las Vegas, NV
Las Vegas, NV
-2
7
8
161
Donald Houghton Rosamond, CA
Rosamond, CA
1
8
3
126
Kane Williams Las Vegas, NV
Las Vegas, NV
-5
9
2
17
Travis Westervelt Belgrade, MT
Belgrade, MT
-7
10
14
34
Billy Maxwell Mohave Valley, AZ
Mohave Valley, AZ
4
11
5
59
Dann Perry III Laughlin, NV
Laughlin, NV
-6
12
11
18M
Ronnie Meyer Jr Norco, CA
Norco, CA
-1
13
12
101
Randy Ahrns Kingman, AZ
Kingman, AZ
-1
14
6
390
Rick Durica Las Vegas, NV
Las Vegas, NV
-8
Finish
Start
#
Competitor
Hometown
+/-
1
1
223
Jake Pike Pahrump, NV
Pahrump, NV
-
2
2
126
Kane Williams Las Vegas, NV
Las Vegas, NV
-
3
3
59
Dann Perry III Laughlin, NV
Laughlin, NV
-
4
5
161
Donald Houghton Rosamond, CA
Rosamond, CA
1
5
4
390
Rick Durica Las Vegas, NV
Las Vegas, NV
-1
6
6
18M
Ronnie Meyer Jr Norco, CA
Norco, CA
-
DNS
7
34
Billy Maxwell Mohave Valley, AZ
Mohave Valley, AZ
-
All transfer
Finish
Start
#
Competitor
Hometown
+/-
1
1
17
Travis Westervelt Belgrade, MT
Belgrade, MT
-
2
4
61H
Dalton Houghton Rosamond, CA
Rosamond, CA
2
3
5
15
Devin Fouquette St. Cloud, MN
St. Cloud, MN
2
4
6
5L
Cody Laney Torrance, CA
Torrance, CA
2
5
7
32S
Brady Gladd Las Vegas, NV
Las Vegas, NV
2
6
3
101
Randy Ahrns Kingman, AZ
Kingman, AZ
-3
7
2
16
Morgan Meyer San Diego, CA
San Diego, CA
-5
All transfer
IMCA Northern SportMod
Finish
Start
#
Competitor
Hometown
+/-
1
1
411
Trent Bandazian Pahrump, NV
Pahrump, NV
-
2
6
09W
Joe Wabsis Pahrump, NV
Pahrump, NV
4
3
2
7AP
Joel Dean Pahrump, NV
Pahrump, NV
-1
4
3
22W
Jerry Walton Las Vegas, NV
Las Vegas, NV
-1
5
5
0
Dakota Girard Moberly, MO
Moberly, MO
-
6
8
99L
Haylee Little Pahrump, NV
Pahrump, NV
2
7
4
21M
Rafael Flores Pahrump, NV
Pahrump, NV
-3
8
7
47
Isaac Gallegos Pahrump, NV
Pahrump, NV
-1
Finish
Start
#
Competitor
Hometown
+/-
1
2
411
Trent Bandazian Pahrump, NV
Pahrump, NV
1
2
5
7AP
Joel Dean Pahrump, NV
Pahrump, NV
3
3
7
0
Dakota Girard Moberly, MO
Moberly, MO
4
4
6
22W
Jerry Walton Las Vegas, NV
Las Vegas, NV
2
5
8
21M
Rafael Flores Pahrump, NV
Pahrump, NV
3
6
4
09W
Joe Wabsis Pahrump, NV
Pahrump, NV
-2
7
3
47
Isaac Gallegos Pahrump, NV
Pahrump, NV
-4
8
1
99L
Haylee Little Pahrump, NV
Pahrump, NV
-7
All transfer
IMCA Sport Compact
Finish
Start
#
Competitor
Hometown
+/-
1
1
08
DJ Werkmeister Mesa, AZ
Mesa, AZ
-
2
4
52
Ken McWilliams Menifee, CA
Menifee, CA
2
3
3
42
David Stites Canyon Lake, CA
Canyon Lake, CA
-
4
5
4
Chris Shelton
1
5
2
7T
Wayne Taylor Fort Mohave, AZ
Fort Mohave, AZ
-3
6
7
13
Mike Giorgianni Sedona, AZ
Sedona, AZ
1
7
6
5K
Kristina Dapper Bullhead City, AZ
Bullhead City, AZ
-1
Finish
Start
#
Competitor
Hometown
+/-
1
3
08
DJ Werkmeister Mesa, AZ
Mesa, AZ
2
2
5
42
David Stites Canyon Lake, CA
Canyon Lake, CA
3
3
6
52
Ken McWilliams Menifee, CA
Menifee, CA
3
4
4
7T
Wayne Taylor Fort Mohave, AZ
Fort Mohave, AZ
-
5
7
4
Chris Shelton
2
6
1
5K
Kristina Dapper Bullhead City, AZ
Bullhead City, AZ
-5
7
2
13
Mike Giorgianni Sedona, AZ
Sedona, AZ
-5
All transfer
Street Stocks
Finish
Start
#
Competitor
Hometown
+/-
1
2
05
Adam Tiscareno Las Vegas, NV
Las Vegas, NV
1
2
7
11W
John Wilson Mohave Valley, AZ
Mohave Valley, AZ
5
3
4
28
Jared Ward Pahrump, NV
Pahrump, NV
1
4
6
22
Jay Ward Las Vegas, NV
Las Vegas, NV
2
5
9
44
Ron Moffatt Las Vegas, NV
Las Vegas, NV
4
6
13
2
Stevi Christy Mohave Valley, AZ
Mohave Valley, AZ
7
7
3
47
Cameron Pierce Lake Matthews, CA
Lake Matthews, CA
-4
8
10
14
Kevin Byszewski Alpine, CA
Alpine, CA
2
9
5
122
Hayden Goveia Fort Mohave, AZ
Fort Mohave, AZ
-4
10
1
49
Dale Daffern Las Vegas, NV
Las Vegas, NV
-9
11
8
34
Kim Maxwell Mohave Valley, AZ
Mohave Valley, AZ
-3
12
12
134
Billy Maxwell Mohave Valley, AZ
Mohave Valley, AZ
-
13
11
20
Debbie Ward Las Vegas, NV
Las Vegas, NV
-2
Finish
Start
#
Competitor
Hometown
+/-
1
1
49
Dale Daffern Las Vegas, NV
Las Vegas, NV
-
2
4
47
Cameron Pierce Lake Matthews, CA
Lake Matthews, CA
2
3
5
122
Hayden Goveia Fort Mohave, AZ
Fort Mohave, AZ
2
4
2
11W
John Wilson Mohave Valley, AZ
Mohave Valley, AZ
-2
5
7
44
Ron Moffatt Las Vegas, NV
Las Vegas, NV
2
6
6
20
Debbie Ward Las Vegas, NV
Las Vegas, NV
-
7
3
2
Stevi Christy Mohave Valley, AZ
Mohave Valley, AZ
-4
All transfer
Finish
Start
#
Competitor
Hometown
+/-
1
1
05
Adam Tiscareno Las Vegas, NV
Las Vegas, NV
-
2
5
28
Jared Ward Pahrump, NV
Pahrump, NV
3
3
3
22
Jay Ward Las Vegas, NV
Las Vegas, NV
-
4
6
34
Kim Maxwell Mohave Valley, AZ
Mohave Valley, AZ
2
5
4
14
Kevin Byszewski Alpine, CA
Alpine, CA
-1
DNS
2
134
Billy Maxwell Mohave Valley, AZ
Mohave Valley, AZ
-
All transfer
IMCA Stock Car
Finish
Start
#
Competitor
Hometown
+/-
1
2
08
Robert Werkmeister Apache Junction, AZ
Apache Junction, AZ
1
2
1
8
Daniel Leslie Kingman, AZ
Kingman, AZ
-1
3
3
18
Noah Geer Mohave Valley, AZ
Mohave Valley, AZ
-
Finish
Start
#
Competitor
Hometown
+/-
1
2
08
Robert Werkmeister Apache Junction, AZ
Apache Junction, AZ
1
2
3
18
Noah Geer Mohave Valley, AZ
Mohave Valley, AZ
1
3
1
8
Daniel Leslie Kingman, AZ
Kingman, AZ
-2
All transfer