May 20th at The Track
Join us for the last show of the season before summer break!
Live Weekly Racing Brought to you by Dirt Race Central! If you are unable to make the races every week, we have a LIVE streaming partner!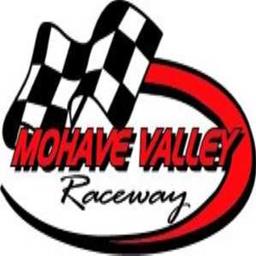 4/23/2022 - Mohave Valley Raceway
Bullhead City, AZ
Running Order:
Street Stocks
Mini Sports
USAC/CRA Sprints
Micro 600 Sprints
Pits:
Pit Pass: $45
Pit Pass 12 and under - $30
CASH ONLY! No checks will be accepted.
Personal vehicles or side by sides, etc are NOT allowed in the pits. If it is not towing the race car/truck, on the trailer with the car, or in the trailer with the car, then it will NOT be allowed. NO exceptions!
Main Grandstands:
General Admission - $20.00
Seniors (60 & Over) - $18.00
Military - $18 (need to show ID)
Children 6-12 - $10.00
Children 5 & Under - FREE!!!!
Cash Only for tickets. No ATMs on site. Concessions, souvenirs, & the Beer garden is cash or card
We do not sell nor offer tickets prior to race day. They have to be purchased in person
** Ice Chests, Outside Food and Beverages are NOT permitted.**
Street Stocks

13 entries

Mini-Sports

12 entries

410 Sprints - Non-Winged
600cc Non Winged Micros

7 entries
Full Event Information on MyRacePass
Street Stocks
Finish
Start
#
Competitor
Hometown
+/-
1
1
71X
Alan Grubel Bomont, CA
Bomont, CA
-
2
6
28
Jared Ward Pahrump, NV
Pahrump, NV
4
3
4
11W
John Wilson Mohave Valley, AZ
Mohave Valley, AZ
1
4
8
22
Jay Ward Las Vegas, NV
Las Vegas, NV
4
5
13
134
Billy Maxwell Mohave Valley, AZ
Mohave Valley, AZ
8
6
7
2
Stevi Christy Mohave Valley, AZ
Mohave Valley, AZ
1
7
3
8
Daniel Leslie Kingman, AZ
Kingman, AZ
-4
8
11
49
Dale Daffern Las Vegas, NV
Las Vegas, NV
3
9
12
24
Devin Ward Pahrump, NV
Pahrump, NV
3
10
2
47
Cameron Pierce Lake Matthews, CA
Lake Matthews, CA
-8
11
5
122
Hayden Goveia Fort Mohave, AZ
Fort Mohave, AZ
-6
12
10
34
Kim Maxwell Mohave Valley, AZ
Mohave Valley, AZ
-2
13
9
05
Adam Tiscareno Las Vegas, NV
Las Vegas, NV
-4
Finish
Start
#
Competitor
Hometown
+/-
1
5
71X
Alan Grubel Bomont, CA
Bomont, CA
4
2
2
8
Daniel Leslie Kingman, AZ
Kingman, AZ
-
3
3
122
Hayden Goveia Fort Mohave, AZ
Fort Mohave, AZ
-
4
6
2
Stevi Christy Mohave Valley, AZ
Mohave Valley, AZ
2
5
1
05
Adam Tiscareno Las Vegas, NV
Las Vegas, NV
-4
6
4
49
Dale Daffern Las Vegas, NV
Las Vegas, NV
-2
7
7
134
Billy Maxwell Mohave Valley, AZ
Mohave Valley, AZ
-
All transfer
Finish
Start
#
Competitor
Hometown
+/-
1
1
47
Cameron Pierce Lake Matthews, CA
Lake Matthews, CA
-
2
3
11W
John Wilson Mohave Valley, AZ
Mohave Valley, AZ
1
3
4
28
Jared Ward Pahrump, NV
Pahrump, NV
1
4
2
22
Jay Ward Las Vegas, NV
Las Vegas, NV
-2
5
6
34
Kim Maxwell Mohave Valley, AZ
Mohave Valley, AZ
1
6
5
24
Devin Ward Pahrump, NV
Pahrump, NV
-1
All transfer
Mini-Sports
Finish
Start
#
Competitor
Hometown
+/-
1
2
81
Chad Walton Bullhead City, AZ
Bullhead City, AZ
1
2
3
25D
Donovan Wooten Fort Mohave, AZ
Fort Mohave, AZ
1
3
9
9
Fabian Ramirez Fort Mohave, AZ
Fort Mohave, AZ
6
4
5
82
Corey Walton Fort Mohave, AZ
Fort Mohave, AZ
1
5
11
0
Nicki McKown Fort Mohave, AZ
Fort Mohave, AZ
6
6
8
888
Ron Banks Bullhead City, AZ
Bullhead City, AZ
2
7
7
7T
Wayne Taylor Fort Mohave, AZ
Fort Mohave, AZ
-
8
6
77
Steven Hartwick Mohave Valley, AZ
Mohave Valley, AZ
-2
9
12
3
Christina Dyer Yucca Valley, CA
Yucca Valley, CA
3
10
4
31
Neil Smith Spokane, WA
Spokane, WA
-6
11
10
44
Terry Sipe Kingman, AZ
Kingman, AZ
-1
DNS
1
01
Steve Freeman Fort Mohave, AZ
Fort Mohave, AZ
-
Finish
Start
#
Competitor
Hometown
+/-
1
4
01
Steve Freeman Fort Mohave, AZ
Fort Mohave, AZ
3
2
2
25D
Donovan Wooten Fort Mohave, AZ
Fort Mohave, AZ
-
3
5
82
Corey Walton Fort Mohave, AZ
Fort Mohave, AZ
2
4
3
7T
Wayne Taylor Fort Mohave, AZ
Fort Mohave, AZ
-1
5
6
9
Fabian Ramirez Fort Mohave, AZ
Fort Mohave, AZ
1
6
1
0
Nicki McKown Fort Mohave, AZ
Fort Mohave, AZ
-5
All transfer
Finish
Start
#
Competitor
Hometown
+/-
1
2
81
Chad Walton Bullhead City, AZ
Bullhead City, AZ
1
2
3
31
Neil Smith Spokane, WA
Spokane, WA
1
3
1
77
Steven Hartwick Mohave Valley, AZ
Mohave Valley, AZ
-2
4
5
888
Ron Banks Bullhead City, AZ
Bullhead City, AZ
1
5
4
44
Terry Sipe Kingman, AZ
Kingman, AZ
-1
6
6
3
Christina Dyer Yucca Valley, CA
Yucca Valley, CA
-
All transfer
600cc Non Winged Micros
Finish
Start
#
Competitor
Hometown
+/-
1
1
20X
Brody Wake Lake Havasu City, AZ
Lake Havasu City, AZ
-
2
2
23S
Steve Simpson Jr Kingman, AZ
Kingman, AZ
-
3
3
14
AJ Klein Las Vegas, NV
Las Vegas, NV
-
4
4
17
Stan Mullis Las Vegas, NV
Las Vegas, NV
-
5
6
2
Jason Funk San Jose, CA
San Jose, CA
1
6
7
43
Neil Jones Las Vegas, NV
Las Vegas, NV
1
DNS
5
18
Eric Pruitt Las Vegas, NV
Las Vegas, NV
-
Finish
Start
#
Competitor
Hometown
+/-
1
1
20X
Brody Wake Lake Havasu City, AZ
Lake Havasu City, AZ
-
2
3
23S
Steve Simpson Jr Kingman, AZ
Kingman, AZ
1
3
2
14
AJ Klein Las Vegas, NV
Las Vegas, NV
-1
4
7
17
Stan Mullis Las Vegas, NV
Las Vegas, NV
3
5
4
18
Eric Pruitt Las Vegas, NV
Las Vegas, NV
-1
6
5
2
Jason Funk San Jose, CA
San Jose, CA
-1
DNS
6
43
Neil Jones Las Vegas, NV
Las Vegas, NV
-
All transfer