Saturday Nights Are for Racing!
Join Us Saturday Night September 30th for 7pm weekly racing!
Live Weekly Racing Brought to you by Dirt Race Central! If you are unable to make the races every week, we have a LIVE streaming partner!

Sprint Cars Are BACK!
Join us October 14th for the Sprint Cars at Mohave Valley Raceway!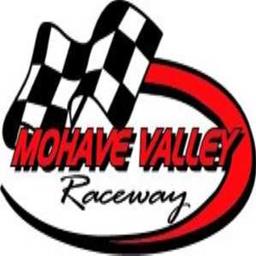 12/31/2021 - Mohave Valley Raceway
Bullhead City, AZ
New Years Bash at the Track - Night #1
Pits:
Car & Driver - $45
Mini Dwarf Driver - $25
Pit Pass - $35
Pit Pass 12 and under - $20
We use MyLaps Transponders and have a limited number of transponders available for rent. They are issued out on a first come basis. The cost to rent is $20 per night (and your driver's license).
A working raceceiver is required. The frequency is 454.0.
Pitbikes only are allowed. Golf carts, etc are not permitted.
Personal vehicles or side by sides, etc are NOT allowed in the pits. NO exceptions!
Main Grandstands:
General Admission - $12.00
Seniors (60 & Over) - $10.00
Military - $10 (need to show ID)
Children 6-12 - $6.00
Children 5 & Under - FREE!!!!
Cash Only for tickets and pits. No ATMs on site. Concessions, souvenirs, & the Beer garden is cash or card
We do not sell nor offer tickets prior to race day. They have to be purchased in person
** Ice Chests, Outside Food and Beverages are NOT permitted.**
IMCA Modified

23 entries

IMCA Northern SportMod

9 entries

IMCA Sport Compact

10 entries

IMCA Stock Car

8 entries
Full Event Information on MyRacePass
IMCA Modified
Finish
Start
#
Competitor
Hometown
+/-
1
7
12
Matt Aukland Glyndon, MN
Glyndon, MN
6
2
5
3J
Josh Cain Rio Rancho, NM
Rio Rancho, NM
3
3
3
223
Jake Pike Pahrump, NV
Pahrump, NV
-
4
12
44K
Kelsie Foley Otis, KS
Otis, KS
8
5
9
61H
Dalton Houghton Rosamond, CA
Rosamond, CA
4
6
2
18B
Cody Barnett Hesperia, CA
Hesperia, CA
-4
7
1
41A
Adam Hommerding Lake Havasu City, AZ
Lake Havasu City, AZ
-6
8
10
43
Brady Gladd Las Vegas, NV
Las Vegas, NV
2
9
21
161
Donald Houghton Rosamond, CA
Rosamond, CA
12
10
8
42
Paul Culp Creswell, OR
Creswell, OR
-2
11
18
93
Kyle Morris Ramona, CA
Ramona, CA
7
12
4
17
Travis Westervelt Belgrade, MT
Belgrade, MT
-8
13
11
59
Dann Perry III Laughlin, NV
Laughlin, NV
-2
14
13
21J
Brandon James Yucaipa, CA
Yucaipa, CA
-1
15
19
101
Randy Ahrns Kingman, AZ
Kingman, AZ
4
16
6
5L
Cody Laney Torrance, CA
Torrance, CA
-10
17
15
23
Jason Pike Pahrump, NV
Pahrump, NV
-2
18
14
11
Adam Marx Fort Mohave, AZ
Fort Mohave, AZ
-4
19
22
18M
Ronnie Meyer Jr Norco, CA
Norco, CA
3
20
16
28K
Buddy Kniss Oakley, CA
Oakley, CA
-4
21
17
34
Bill Maxwell Mohave Valley, AZ
Mohave Valley, AZ
-4
22
20
42S
Don Shaw Ham Lake, MN
Ham Lake, MN
-2
DNS
23
16
Morgan Meyer San Diego, CA
San Diego, CA
-
Finish
Start
#
Competitor
Hometown
+/-
1
1
5L
Cody Laney Torrance, CA
Torrance, CA
-
2
2
18B
Cody Barnett Hesperia, CA
Hesperia, CA
-
3
3
41A
Adam Hommerding Lake Havasu City, AZ
Lake Havasu City, AZ
-
4
7
42
Paul Culp Creswell, OR
Creswell, OR
3
5
4
21J
Brandon James Yucaipa, CA
Yucaipa, CA
-1
6
6
28K
Buddy Kniss Oakley, CA
Oakley, CA
-
7
8
101
Randy Ahrns Kingman, AZ
Kingman, AZ
1
DNS
5
16
Morgan Meyer San Diego, CA
San Diego, CA
-
All transfer
Finish
Start
#
Competitor
Hometown
+/-
1
2
3J
Josh Cain Rio Rancho, NM
Rio Rancho, NM
1
2
4
44K
Kelsie Foley Otis, KS
Otis, KS
2
3
6
43
Brady Gladd Las Vegas, NV
Las Vegas, NV
3
4
5
17
Travis Westervelt Belgrade, MT
Belgrade, MT
1
5
7
11
Adam Marx Fort Mohave, AZ
Fort Mohave, AZ
2
6
8
34
Bill Maxwell Mohave Valley, AZ
Mohave Valley, AZ
2
DQ
1
161
Donald Houghton Rosamond, CA
Rosamond, CA
-
DQ
3
18M
Ronnie Meyer Jr Norco, CA
Norco, CA
-
All transfer
Finish
Start
#
Competitor
Hometown
+/-
1
1
12
Matt Aukland Glyndon, MN
Glyndon, MN
-
2
6
223
Jake Pike Pahrump, NV
Pahrump, NV
4
3
5
61H
Dalton Houghton Rosamond, CA
Rosamond, CA
2
4
2
59
Dann Perry III Laughlin, NV
Laughlin, NV
-2
5
4
23
Jason Pike Pahrump, NV
Pahrump, NV
-1
6
7
93
Kyle Morris Ramona, CA
Ramona, CA
1
7
3
42S
Don Shaw Ham Lake, MN
Ham Lake, MN
-4
All transfer
IMCA Northern SportMod
Finish
Start
#
Competitor
Hometown
+/-
1
5
4Q2
Mark Martini Avon, MN
Avon, MN
4
2
7
21P
Ryan Peery Yreka, CA
Yreka, CA
5
3
1
33Y
David Jones Yuma, AZ
Yuma, AZ
-2
4
4
09W
Joe Wabsis Pahrump, NV
Pahrump, NV
-
5
2
55
Adam Jeffrey Acton, CA
Acton, CA
-3
6
6
99L
Haylee Little Pahrump, NV
Pahrump, NV
-
7
8
41L
Lorne Hommerding Lake Havasu City, AZ
Lake Havasu City, AZ
1
8
3
66
Shaun Moore Pahrump, NV
Pahrump, NV
-5
9
9
421
Tyler Vache Apache Junction, AZ
Apache Junction, AZ
-
Finish
Start
#
Competitor
Hometown
+/-
1
1
21P
Ryan Peery Yreka, CA
Yreka, CA
-
2
5
09W
Joe Wabsis Pahrump, NV
Pahrump, NV
3
3
3
66
Shaun Moore Pahrump, NV
Pahrump, NV
-
4
2
55
Adam Jeffrey Acton, CA
Acton, CA
-2
5
4
99L
Haylee Little Pahrump, NV
Pahrump, NV
-1
All transfer
Finish
Start
#
Competitor
Hometown
+/-
1
1
4Q2
Mark Martini Avon, MN
Avon, MN
-
2
3
33Y
David Jones Yuma, AZ
Yuma, AZ
1
3
4
41L
Lorne Hommerding Lake Havasu City, AZ
Lake Havasu City, AZ
1
DQ
2
421
Tyler Vache Apache Junction, AZ
Apache Junction, AZ
-
All transfer
IMCA Sport Compact
Finish
Start
#
Competitor
Hometown
+/-
1
2
52
Ken McWilliams Menifee, CA
Menifee, CA
1
2
5
08
DJ Werkmeister Mesa, AZ
Mesa, AZ
3
3
1
7T
Wayne Taylor Fort Mohave, AZ
Fort Mohave, AZ
-2
4
3
23
Chris Niemi Santee, CA
Santee, CA
-1
5
4
47
Andrew Schmitz Hemet, CA
Hemet, CA
-1
6
6
13
Mike Giorgianni Sedona, AZ
Sedona, AZ
-
7
7
5K
Kristina Dapper Bullhead City, AZ
Bullhead City, AZ
-
8
8
415K
Kody Cowan
-
DNS
9
14
John Brancefield Fort Mohave, AZ
Fort Mohave, AZ
-
Finish
Start
#
Competitor
Hometown
+/-
1
3
7T
Wayne Taylor Fort Mohave, AZ
Fort Mohave, AZ
2
2
5
52
Ken McWilliams Menifee, CA
Menifee, CA
3
3
6
23
Chris Niemi Santee, CA
Santee, CA
3
4
9
47
Andrew Schmitz Hemet, CA
Hemet, CA
5
5
4
08
DJ Werkmeister Mesa, AZ
Mesa, AZ
-1
6
2
13
Mike Giorgianni Sedona, AZ
Sedona, AZ
-4
7
1
5K
Kristina Dapper Bullhead City, AZ
Bullhead City, AZ
-6
8
7
415
Misty Bonnee Kingman, AZ
Kingman, AZ
-1
DNS
8
14
John Brancefield Fort Mohave, AZ
Fort Mohave, AZ
-
All transfer
IMCA Stock Car
Finish
Start
#
Competitor
Hometown
+/-
1
1
23JR
Chris McCurdy Jr Phoenix, AZ
Phoenix, AZ
-
2
4
7M
Trevor Hidalgo
2
3
2
70
Zach Griggs Mesa, AZ
Mesa, AZ
-1
4
5
02X
Larry Brigner Apache Junction, AZ
Apache Junction, AZ
1
5
8
E7
Doug Lockwood Beaverton, OR
Beaverton, OR
3
6
6
33
John Haller Fort Mohave, AZ
Fort Mohave, AZ
-
7
3
18
Noah Geer Mohave Valley, AZ
Mohave Valley, AZ
-4
8
7
8
Daniel Leslie Kingman, AZ
Kingman, AZ
-1
Finish
Start
#
Competitor
Hometown
+/-
1
1
23JR
Chris McCurdy Jr Phoenix, AZ
Phoenix, AZ
-
2
4
70
Zach Griggs Mesa, AZ
Mesa, AZ
2
3
3
02X
Larry Brigner Apache Junction, AZ
Apache Junction, AZ
-
4
6
7M
Trevor Hidalgo
2
5
5
18
Noah Geer Mohave Valley, AZ
Mohave Valley, AZ
-
6
2
33
John Haller Fort Mohave, AZ
Fort Mohave, AZ
-4
7
7
8
Daniel Leslie Kingman, AZ
Kingman, AZ
-
DNS
8
E7
Doug Lockwood Beaverton, OR
Beaverton, OR
-
All transfer